The RenDanHeYi in practice. Voices from the world
The public release of the new 3EO Toolkit has been the unique opportunity to engage four organizations from different industries, continents, and very diverse levels of maturity to transparently share, with the rest of the world, their experience and learnings with RenDanHeYi adoption. From 60 to 80.000 employees, from Thailand to the USA, from communication to manufacturing and banking, join General Electric Appliances, Intesa Sanpaolo, MAQE, and Gummy Industries to explore more.
Abstract
The public release of the new 3EO Toolkit has been the unique opportunity to engage four organizations from different industries, continents, and with very diverse levels of maturity to transparently share, with the rest of the world, their RenDanHeYi experience and learnings.
From 60 to 80.000 employees, from Thailand to the USA, from communication to manufacturing and banking, General Electric Appliances, Intesa Sanpaolo, MAQE, and Gummy Industries helped us to explore:
The unique business advantages introduced by the RenDanHeYi
Its most surprising aspects and implications
The approach each organization followed in its own transformation trajectory
Specific outcomes they expect or have already achieved
The strongest barriers they had to face
Any hard pre-requisite and cultural requirement
The recording is now available. Join the more than 100 leaders and practitioners that subscribed to the event to discover our guests' perspectives and insights through the video and post below.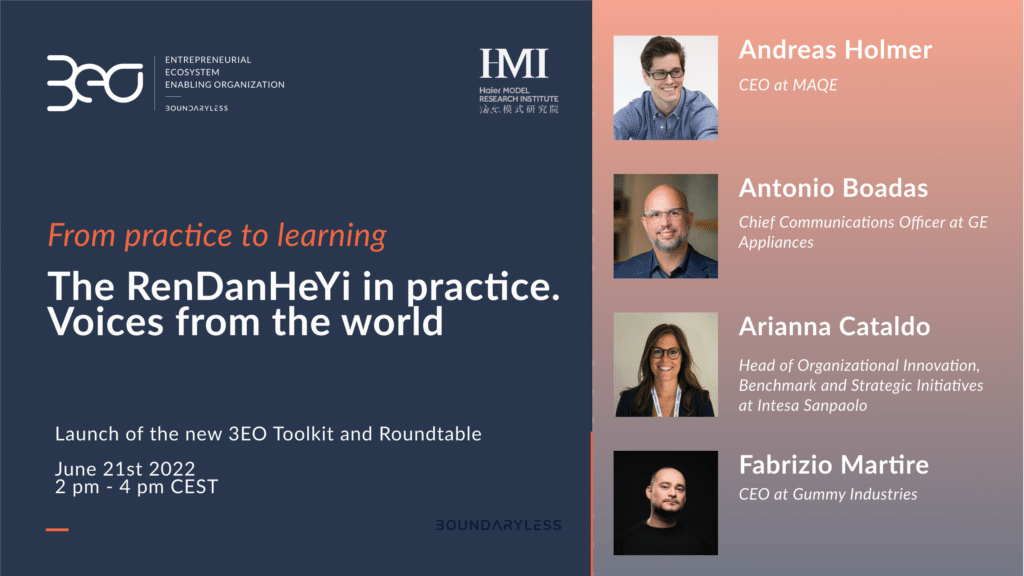 Why look at the RenDanHeYi?
Practice leads over theory. Regardless of the details and specific choices that characterize each journey, all of them express universal needs most of market shares and that the RenDanHeYi is uniquely qualified to support. According to our guests, such needs include:
Employee Engagement by clarifying and creating alignment between people's objectives and organizational priorities. Such a resonance maximizes the employee productivity and motivation both companies and individuals are desperately in search of.
Entrepreneurship. Engagement happens by letting go of control and tapping into the creativity, hidden talent, desire for self-expression, and realization all employees indeed have. Turning each and every one of them into an owner with the autonomy, freedom, and commitment it entails, both from a psychological and formal perspective, remains among the most surprising organizational innovations supported by such an ecosystemic model.
Playing by market rules. The RenDanHeYi brings into organizational design the fluid, many-to-many, competition-based behaviors typical of the free market. The ambition to demonstrate value for money is visible both in customer-facing and internally-facing teams. It contributes to reducing political turfs, costly delays, unsustainable overheads, and innovation stifling bureaucracy.
An atmosphere that brings down corporate walls. Neither a philosophy nor a model, there is some magic in the atmosphere the RenDanHeYi invites companies to breathe through its collaboration, humanity, empathy, vulnerability, zero distance from the customer, a constant nudge towards listening and understanding. It's all about asking questions and co-creating value. It is "getting closer to each other to generate something together".
Institutionalized autonomy.  Most, if not all, employees today desire an active role in the decisions impacting them. By getting rid of managerial control and re-enabling that space removed by traditional hierarchies, individuals are finally treated as smart, skilled, capable, and responsible adults, required to take on risks and accept responsibility for their choices. Surely an exciting and somewhat frightening new reality.
Rewarding risks through upsides. Sharing the weight, of course, also demands sharing the benefits, not through marginally meaningful bonuses assigned by somebody else but through financial incentives, that colleagues can design themselves, based on the amount of complexity, effort, uncertainty, and returns they want to profuse.
Fighting a lack of business sense. Even most progressive organizational models such as Teal organizations, Sociocracy / Holacracy, and agile say pretty nothing about how to be driven by customer needs. Customer-paid salaries, leading targets, co-creation with customers, and user scenarios addressed through community contracts are all concrete aids at busting insularity and self-referential attitudes.
Which organization in the world wouldn't sign up for these benefits? Of course, the question is how to bring them home.
A surprising journey
Fully autonomous, self-managed teams that coordinate themselves around user outcomes through dynamic contracts, in a largely flat structure, with salaries paid by customers and within a strategy that is created both from the top and the bottom, may sound more than a little weird to most executives.
The following are some of the craziest aspects that surprised our guests when they personally first heard about the RenDanHeYi. Similar reactions may be expected by leaders in other organizations:
From pure chaos to liberation. At GE Appliances, the first feelings were astonishment and incredulity. They hadn't been tracking Haier as a competitor, and the RenDanHeYi made no sense, at that point, to them. "How to pronounce it? What was it?". Kevin Nolan, the company's CEO, decided to spend a full year in China to learn from the source. The initial ideas was of "pure chaos," similarly to a game of chess you don't get the rules for. No organizational chart was available. No boss was in charge. Goals were not written. Processes were unclear. Most aspects given for granted in the West were missing, and still, business results were magically coming. It was only when GE Appliances stopped assuming and started listening that the power of the RenDanHeYi revealed itself with all its liberating force. In it, a company stuck in a 100-years old culture and structure found freedom, better ways of getting work done, and autonomy. It also helped eliminate bureaucracy and the processes forcing GE Appliances to prioritize internal clients instead of customers. The American branch rediscovered itself in charge of the future. Similar realizations cemented a common philosophical ground and ignited a "translation" of the RenDanHeYi on the 15.000 people in the US. After a first messy encounter, people in America just embraced it.
Freedom means engagement even in a regulated market. Operating in a regulated market with over 80K employees, the European bank Intesa Sanpaolo couldn't be historically more distant from the RenDanHeYi. Arianna Cataldo initially thought: "How is it possible?" And now, she is the most exposed person in the organization in terms of putting it into practice. Arianna and her team quickly fell in love with Haier's conceptual and philosophical underpinnings because of the incredible advantage they are able to deliver, both in terms of business growth (see the company's sustained quantitative achievements in Europe) and the belief that greater engagement leads to greater productivity, an effect eagerly sought, especially in larger organizations. The social, technological, and geopolitical complexities in which the bank and most of Europe are immersed also looked like a particularly favorable condition for experimenting with more extreme and promising solutions. It is a time for curiosity, even mistakes, with the goal of tailoring RenDanHeYi 's ideas to Intesa's specific reality and constraints. Taking advantage of the RenDanHeYi seems possible everywhere, even in heavily controlled contexts.
An explosion of energy and excitement. Hearing how an entire manufacturing giant can be organized through thousands of flat, autonomous micro-enterprises is mind-blowing and also the reason why MAQE and Gummy Industries wanted to know more. The major realization they had was how the same principles could be effectively introduced in groups of 60-80, not 80K, people, offering services, not products, without the major investments a multinational company would infuse.
Letting a growing team feel closer and more creative. Maintaining a sense of coherence, speed, innovation, and alignment together with warm, timely reactions to clients' needs while the number of employees is doubling has been the additional selling point of the RenDanHeYi at Gummy Industries. Protecting that startup feeling while fostering rapid growth is a common demand in smaller firms willing to gain market share, develop new offerings, and enter new segments.
A pool of transformation paths
The event provided a diversified look at the multiple ways to move towards the RenDanHeYi. Details about 3 out of 4 of the experiences represented at this event have been already featured in Boundaryless' 3EO Conversations, which can be individually accessed through the links below. Additional information has been added from this event:
Gummy Industries – The RenDanHeYi Italian style. From creativity to venture incubation at Gummy Industries. Against all odds, Fabrizio Martire and Alessandro Mininno, co-CEOs of the Italian communication agency Gummy Industries, showed us how to unleash organizational magic by transforming a digital firm with 60 employees into an incubator of new ventures, with creative employees co-creating and leading them through flat and autonomous teams named kitchens and lead by owners called chefs. The approach also features centralized shared services to support scale in the form of a Food Market and a unit, Flatmates, already incorporated into a new entity (what the company calls a Restaurant) with the involvement of external investors. All of it in a funny, tongue-in-cheek, Italian style to make a profound, challenging, and disruptive change a bit more palatable to individuals not formally involved in organization design.
MAQE – MAQE's Journey towards the RenDanHeYi. Andreas Holmer, CEO at MAQE, provided lots of insightful details on how, through the RenDanHeYi, its company, one part strategic design agency, one part technology/e-commerce firm, has been re-interpreting the organizational challenges of a consulting firm in Thailand. Similar to Gummy Industries, MAQE nurtured an internal venture builder inviting and supporting employees to eventually become business owners and turning business ideas into complementary products and services. With a foundation not too far from the self-management practices promoted by sociocracy or Holacracy to guarantee autonomy, MAQE introduced a smart, 3/6/9 months, stage-gated, acceleration process to empower colleagues to receive spare time and investments as their proposals got increasingly validated by customers. That's a wise attempt at keeping financial risk at bay, even when billable hours and revenues have to necessarily remain above a certain threshold. Solutions (equivalent to Haier's Micro-Enterprises) brought to the table the additional motivation and upside the firm was looking for. Equity is attributed to owners once solutions reach the incorporation phase. 4-5 solutions are currently active. Such a bottom-up, innovation management and portfolio management process makes RenDanHeYi experimentation more economically sustainable and accessible even to small, new, not-heavily capitalized enterprises.
Intesa Sanpaolo – A few steps behind in comparison to other stories represented at the event, this large, international financial institution decided to take inspiration from the RenDanHeYi to become more flexible, adaptive, attractive, and have more engaged, empowered, and impactful employees. Through an onboarding phase, a number of senior executives attended Boundaryless' masterclasses, and one specific business unit stepped forward as a potential first test area. The inspiration became a project that, in line with the rigorous culture of a bank, involves a horizontal set of stakeholders and functions (HR and Compensation, Organization, Legal, Finance, etc.) to address dilemmas ranging from autonomy, ownership, rewarding, decision making to budgeting, legal architecture, targets, and key performance indicators. The resulting archetype will tailor the RenDanHeYi to the goals, complexity, and expectations of the bank and act as a guide for a formal pilot to be launched by the end of the year.
General Electric Appliances – How to apply the Rendanheyi outside of China. The GE Appliances story. Antonio Boadas, Communication Leader at GE Appliances, a 100-year-old billion-dollar company with close to 15.000 employees, acquired by Haier in 2016, shared its firm's adoption of the RenDanHeYi philosophy with the challenges and outstanding results it allowed them to reach, including the best year ever during Covid-19 times. The upending of an internally focused culture, in GEA began with setting a customer-centric, outside-in leading goal. A free line of sight between internal functions and the market immediately replaced a pure need to feed the corporate machine (i.e., bureaucracy) with external progress (e.g., becoming the number one in a segment or with a product). Zero distance from the customer and being best able to serve end users became the strategy to realize strategic ambitions. Micro-enterprises were launched to implement the strategy by fragmenting a monolithic firm into many entrepreneurial components, initially inspired by pre-existing business units (refrigeration, cooking, etc.) and subsequently complemented by nearly 20 units that emerged from the company's population. Micro-enterprises have the freedom and authority to pick a direction, define their goals, and enjoy the right to hire and fire, with a compensation model based on the value they create in the market, more than their ability to please the management. As a result, GEA achieved an incredible impact by doubling its business in 4 years, extending its penetration in over 50% of US homes and simultaneously getting costs down. Still, according to Antonio, more than hard returns, the most satisfying result obtained may be accelerated pace of experimentation and learning or, in other terms, the speed of innovation, thanks to which the future appears more promising.
Learnings from the field
Some patterns emerged by connecting the dots among the trajectories and lessons of our four guest organizations:
Shared Service Platforms have been again mentioned as the hidden core of organizational power and bureaucracy. Working on customer-facing units, the usual starting point of any transformation, is not enough. The heads of support functions will resist giving up their areas of interest. Such inertia will help uncover unnecessary accumulations of influence and control that sever the company's potential. Our guests suggestion here is to let the market get into the door and put pressure on internal teams. An invitation to let them see and feel customer needs and feedback. That's why SSPs are the real litmus paper of a deep, pervasive RenDanHeYi transformation. Without addressing them, the firm lacks either economy of scale or service consistency among entrepreneurial units. Micro-enterprises may also starve due to missing or delayed inputs (e.g., Legal, Marketing, IT, etc.). For this very reason, in our 3EO Adoption Guide, we recommend pre-negotiated agreements with non-externalizable service providers to accelerate adoption and increase the success rate of the new model.
Commence at the peak of performance. Intesa Sanpaolo is among the best proofs in Europe of an extremely successful incumbent not being complacent and instead taking advantage of its leading position to disrupt itself, through the RenDanHeYi, before having the need to do so. Haier itself is testimony about how crucial "steering ahead of time" may be for firms requiring years or decades to fully transform.
The role of labor laws. Exploring RenDanHeYi ideas outside of China immediately raises concerns about labor laws and a dramatically different relationship between former employees, now turned entrepreneurs, and the firm. Experiences such as Bosch Power Tools, taking place in Germany, where work councils historically maintain lots of weight regarding employees' rights, demonstrate at least the possibility to proceed along this path. Implications have to be probably validated in each European and American country, due to local differences.
What does success look like, according to the RenDanHeYi? Together with profit, Andreas Holmer synthesized the Trinity or the three forcing functions (company profitability, personal fulfillment, customer satisfaction) applied in MAQE to balance hard returns with more ecosystemic forms of value. Also, Zappos talks about the Triangle of Accountability with a similarly three-pronged approach to worry about more and less traditional metrics to evaluate success.
Agility and entrepreneurship. Is the agile movement a barrier or an accelerator for the RenDanHeYi? Together with others, Bosch's experience at least suggests agile as a valuable stepping stone to letting teams achieve the more extreme levels of autonomy, freedom, and scalable impact Haier's model proposes. More than this, by indirectly conceiving micro-enterprises as black boxes exposing services and signing agreements with other nodes (other micro-enterprises or ecosystem micro-communities) but without any requirements when it comes to inner mechanisms, the RenDanHeYi can be easily integrated with agile rituals such as dailies, stand-ups, reviews, retrospectives, etc. More reflections about the relationship between the RenDanHeYi and other progressive approaches are offered in our 3EO Adoption Guide. Boundaryless itself is currently combining it with sociocratic practices.
Is the RenDanHeYi mostly about launching new businesses? Not really. While being perfectly capable of supporting the launch of unicorns in only six months in Haier China, GE Appliances actually leveraged it to reinvent its existing business model, digitalizing it, creating new products, and going from hardware to a service company. As confirmed by the other guests, RenDanHeYi's philosophy and way of living create confidence both to launch new businesses from scratch by unleashing people's energy and co-creating innovative solutions with them and revamping old companies in need of a new DNA.
Does it have an impact on employee motivation? Getting the opportunity to come up with new ideas the employer will not just accept but even invest in is most probably the best leading indicator of an engaged and motivated workforce. Talent attraction and retention may be considered side-effects of such a stimulating opportunity.
Is such an entrepreneurial model valid for any employee and corporate culture? Antonio had no doubts here. The RenDanHeyi can and should be applied everywhere because the fundamental belief it infuses is that companies shouldn't constrain human potential. Haier's approach offers, instead, a message of liberation and self-expression all employees are waiting for. Why spend so much time and effort at hiring the best talent to let it intellectually check out as soon as it joins? The RenDanHeYi doesn't take anything out of employees' lives. Instead, it gives them the freedom to be themselves and without invading other people's vital space. Still adhering to common rules or schedules, the RenDanHeYi is about offering everyone the right to decide what to do, how to do it, and what the impact on his/her users should be.
Keeping the conversation going
Insights from the "Will the RenDanHeYi work for me" event, the second one in the current series, will be shared shortly. In the while, what are your thoughts about the experiences GE Appliances, Intesa Sanpaolo, MAQE, and Gummy Industries shared?
Do you have questions for them?
Please comment below.
Are you into future-proof organization design concepts, techniques, and tools?
Join us at the upcoming 3EO / RenDanHeYi Live Masterclass in September: