RenDanHeYi and SAFe. A side-by-side comparison
A detailed comparison of the RenDanHeYi / 3EO and the most widely adopted agile framework, SAFe (Scaled Agile Framework), in terms of their philosophy, goals, scope, respective characteristics and components, as a first reflection about how to take the best out of the two worlds.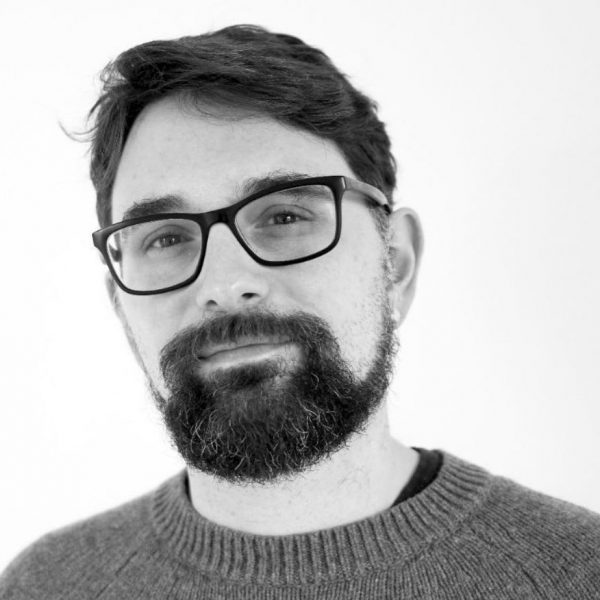 Abstract
This summer, the Boundaryless 3EO team significantly bolstered its engagement and collaborative efforts with agile practitioners. The InAgile Conference in Prague served as a fertile ground for exploring critical intersections between RenDanHeYi/3EO principles and agile methodologies, sparking insightful dialogues on topics such as the alignment of agile principles with RenDanHeYi/3EO values, the potential challenges of integrating RenDanHeYi/3EO within agile-based teams, and the comparative effects of both frameworks on organizational and operational structures. 
Moreover, we delved into the unique contributions that RenDanHeYi/3EO can provide to existing agile methods. Our previous post, "Agile on steroids through the RenDanHeY" lays the groundwork for understanding agility as a strategic imperative, reimagining reward systems, and ensuring enduring support for agile teams with innovative organizational artifacts that harmonize with, rather than oppose, agile practices.
Building on this foundation, our latest article draws inspiration from our keynote at AgileWorld and the rich discussions it incited, offering an in-depth comparative analysis of RenDanHeYi/3EO and the prevalent SAFe framework. This discourse is especially pertinent as numerous clients and large entities worldwide contemplate adopting elements from Haier's model—with the aim to foster a more entrepreneurial and ecosystem-oriented approach to develop their organizations—and, at the same time, often rely on the core tenets of SAFe to ensure operationalization of their portfolio development efforts.
In this piece, we elucidate the essence of SAFe and its contributions, outline its key features, configurations, and the organizational needs it addresses—contrasting these with the RenDanHeYi/3EO framework. We aim to provide insights on how to synergize the strengths of both paradigms.
Moreover, it is important to highlight that the 3EO Framework, pioneered by Boundaryless, is an open-access model designed to democratize the RenDanHeYi philosophy and similar strategies. This framework enables the creation of entrepreneurial, ecosystem-centric organizations composed of a collaborative network of entrepreneurial units, thereby enhancing the organization's agility and resilience in a dynamic environment. 
For a comprehensive understanding of RenDanHeYi/3EO, consider participating in the upcoming 3EO/RenDanHeYi Masterclass, scheduled from December 5th to 8th. Join our upcoming AMA session on Linkedin on November 9th.
NOTE: We also want to thank Stuart Fish for the precious editing that he offered and our colleagues at the Haier Model Institute for the review.
SAFe in a Nutshell
SAFe, or scaled agile framework, is "a set of organization and workflow patterns intended to guide enterprises in scaling lean and agile practices." It is probably the most widely diffused among the methods offering solutions for infusing agile beyond a single team. Its goal is to provide the "shortest sustainable lead time, with best quality and value to people and society" through enterprise-class software systems. It originated from agile practitioners through a combination of agile software development, lean product development, and system thinking to promote alignment, collaboration, and delivery across large numbers of teams.
Some of its salient aspects, ideas, contributions, and tools are described in the paragraphs below to facilitate its comparison with Haier's RenDanHeYi and the 3EO model, for those who do not have previous experience with it.
The principles
Given the extreme variability in terms of environment, challenges, and level of complexity an enterprise using SAFe may face, its practices and roles are grounded upon ten immutable principles:
Take an economic view

or understanding of the economics of building software systems, including risks, Cost of Delay (CoD), manufacturing, operational, and development costs.

Apply systems thinking

meant as a look at both the software being developed and the organization behind it as complex entities made by many actors, influenced by multiple factors in hardly predictable ways.

Assume variability, preserve options,

or maintain redundant sets of requirements and solutions at play until data can be used to clarify the single best option.

Build incrementally with fast integrated learning cycles

or work through fast iterations to collect feedback for continuous refinement and improvement or potentially pivoting to entirely new directions.

Base milestones on objective evaluation of working systems

or leveraging the moments of integration with other systems as the best moments to evaluate progress and take financial and technical decisions

Make value flow without interruptions

through eight properties of a flow-based system and recommendations for eliminating blockers to value creation and exchange.

Apply cadence and synchronize with cross-domain planning

or creating rituals and periodic alignments that balance uncertainty with the needs and progress of multiple teams and streams.

Unlock the intrinsic motivation of knowledge workers

through autonomy, purpose, and people development more than intrinsic incentivization.

Decentralize decision-making

or balance centralized and decentralized decisions to achieve both economies of scale and speed, flow, fast learning, more innovative solutions, and engagement.

Organize around value

or let internal structure evolve around market and customer needs to reduce interlocks, handoffs, and bureaucracy.
While the actual practices, their application, and even their appropriateness may vary from one implementation to the other, the principles are imagined as a sort of beacon to guarantee the transformation target and the coherence of the journey.
SAFe components and concepts
SAFe practices are built upon some foundational concepts and components that can be described as follows:
A value stream

is the basic construct of organization and value creation in SAFe. It represents a long-term series of steps that deliver tangible results for customers. It includes a trigger, a chronological series of activities, the value they are meant to unlock, the people and systems involved, and a time for reaching their conclusion. There are two types of value streams:

operational ones

to let end-users receive value through the business solutions created and

development ones

that create those business solutions.

Development value streams are translated into

Agile Release Trains (ARTs),

or stable groups of 50 – 125 people, dedicated to a single solution or to a coherent set of products/services that deliver value with a minimum number of dependencies from other ARTs.

Solution Trains

are means to coordinate the roles, events, and artifacts required by multiple Agile Release Trains and external players (suppliers) to realize complex, large solutions.

A Planning Interval (PI)

is a timebox in which Agile Release Trains deliver value according to the objectives agreed during the timeframe. It is usually 8 – 12 weeks long with four development, plus one innovation and one planning iteration.
The four configurations
Based on the size and complexity of the transformation at hand, in its 6.0 version, SAFe also offers four potential configurations: essential, portfolio, large solution, and full. In a nutshell
Essential SAFe

bundles the minimal elements necessary for ARTs to deliver and is the simplest starting point for implementing the framework. It acts at the team and program level.

Large Solution SAFe

is intended for enterprises building and coordinating large, complex solutions that, anyway, do not require portfolio concerns. Whilst Essential SAFe synchronizes and aligns multiple teams towards a common goal in an ART, Large Solution SAFe synchronizes and aligns multiple ARTs.

Portfolio SAFe

adds strategy, investment funding, portfolio operations, and lean governance for value streams.

Full SAFe

is the most comprehensive solution that combines all the previous levels to support a portfolio of large and complex solutions.
Different organizations will pick the configuration that best responds to the situation they are facing and the maturity of their agile practice.
Implementation roadmap
How do you put everything together? The SAFe implementation Roadmap is a graphical overview and a series of articles describing an ordered sequence of activities for successfully implementing SAFe and helping the organization evolve its mindset/culture towards business agility. It features an overview plus 13 steps:
Reach the Tipping Point

or establish the burning platform both in terms of the need and vision for change.

Train Lean-Agile Change Agents

is the first step in creating the most effective internal coalition to sustain change. In this case, empowering certified internal SPC (SAFe Practice Consultants) with the right level of knowledge and energy to facilitate the transformation

Create a Lean-Agile Center of Excellence

is about constituting a small agile working group that acts as the focal point and continuous source of inspiration for change management. Its members should be respected, able to motivate others, and characterized by the pragmatic attitude necessary to remove barriers.

Train Executives, Managers, and Leaders

as the last angle of the internal coalition that now includes selected sponsors and organizational supporters of the evolution's success through new skills and a lean-agile mindset.

Lead in the Digital Age

is when the leaders actually move away from previous behaviors, start to role model, and directly diffuse new patterns and interaction dynamics within the firm.

Organize Around Value

is about rethinking organization design, optimizing for value flow that cuts across functional silos. It is here that operational and development value streams are identified and codified into ARTs.

Create the Implementation Plan

is where operational planning takes place by picking the first value stream, selecting the first art, and starting to imagine future ARTs and value streams through a Planning Interval (PI) Roadmap.

Prepare for ART Launch

establishes the infrastructure (launch date, a calendar), competencies, and backlog for the launch.

Train Teams and Launch ART

introduces the skills required by the team actually taking care of the implementation.

Coach ART Execution

follows the first ART in not only understanding but especially digesting and applying agile principles to their daily work.

Launch More ARTs and Value Streams

is where the process is repeated and opened to other value streams.

Enhance the Portfolio

enlarges the scope beyond the launch or execution of a single value stream / ART by helping higher-level leaders and the broader organization to adopt lean portfolio management principles and practices, to also take care of funding, budgets, prioritization, and financial performance.

Accelerate

goes back to the beginning of the implementation by leveraging lean thinking to optimize the entire process.
A side-by-side comparison with the RenDanHeYi
As we have seen so far, SAFe is a valid companion for large organizations to embrace an agile mindset and practices for bringing people and business needs to the core of their software systems and delivering value, quality, and agility at scale. Even if rarer in practice, ideally, its adoption may go beyond IT departments and technical teams to also transform how support and business functions operate.
What about the  RenDanHeYi / 3EO? How does it compare? The following comparison, created with the precious help of organizational coach and SAFe-certified consultant Stuart Fish, helps to summarize the central aspects and differences.
The main goal of the framework
RenDanHeYi / 3EO:

Enabling organizations to constantly realign around customer outcomes through distributed entrepreneurial teams and centralized supporting services

SAFe:

Enabling enterprises to achieve the business agility needed to successfully respond to volatile market conditions, changing customer needs, and emerging technologies
Organizational scope (Teams, departments/business units, organization )
RenDanHeYi / 3EO:

The entire organization. Business units and functions are reimagined as a loosely coupled network of semi-autonomous teams. Gradually applied to all customer-facing and internally-facing areas across the business.

SAFe:

Individual teams and teams of teams at growing levels of aggregation up to the entire enterprise. Most often applied in IT functions. In principle, business-centric and other functions can be included.
Central guiding principles
RenDanHeYi / 3EO:

Zero Distance / Paid used salaries / Micro Entrepreneurial teams with P&L / Entrepreneurs, not employees / Order bidding / Bureaucracy busting / No hierarchies

SAFe:

Agile and Lean according to the principles above, in line with the seven core competencies of Lean-Agile Leadership / Team & Technical Agility / Agile Product Delivery / Enterprise Solution Delivery / Lean Portfolio Management / Organizational Agility / Continuous Learning Culture.
Foundational requirements / assumptions behind the frameworks
RenDanHeYi / 3EO:

The RenDanHeYi assumes that employees should act entrepreneurially with both upsides and downsides, units should have a distinct P&L with ample space for freedom, value exchange should be tracked, bureaucracy should be minimized, command and control should be broken down.

SAFe:

In line with its principles, SAFe organizes around value, funds are assigned to value streams (and not projects), agile teams and ARTs are empowered with autonomy, work is managed and planned according to a regular cadence of planning iterations and the principles of Inspect & Adapt.




Core organizational constructs
1) Core RenDanHeYi / 3EO Artifact: Micro Enterprises (MEs). 
Micro Enterprises (MEs). Driven by the need for greater autonomy, since 2013, Haier embraced the Micro-enterprise (ME) as its foundational organizational unit based on three essential rights: the right to make decisions, the right to hire talent, and the right to distribute compensation. The Micro-enterprise is an entrepreneurial, largely independent unit that owns its own profit & loss statement, and it is created by employees. Micro-enterprises are conceptually divided into User MEs (customer-facing) and Node MEs (providing services to other Micro-enterprises – or enterprises more generally).
How such RenDanHeYi / 3EO artifact translates into SAFe:
Agile Teams. Agile teams (circa ten members) are SAFe's foundation. They can be technical teams, business teams, or a mix of both. Ideally, agile teams are self-organizing, cross-functional, and can deliver end-to-end value. SAFe applies team concepts from "Team Topologies." Following this approach, different types of teams are possible: stream-aligned teams around the flow of work for the customer or user, complicated subsystem teams around specialized subsystems requiring vertical expertise, platform teams offering standard services to other teams, enabling teams with dedicated capabilities, especially around new technologies. Here's a dedicated article Organizing Agile Teams and ARTs: Team Topologies at Scale.
Additional notes regarding the translation:
Agile teams don't have a distinct Profit & Loss responsibility, and they're not necessarily autonomous in delivering a value proposition, due to the need for alignment, synchronization, and collaboration among multiple teams. The allocation of individuals to agile teams, the decision about the service to focus on, and value-sharing considerations among members all go beyond the freedoms assigned to SAFe's teams.
2) Core RenDanHeYi / 3EO Artifact: Ecosystem Micro-Communities (EMCs). 
Ecosystem Micro-Communities (EMCs). The concept of EMC was born as an open and dynamic structure to facilitate ME-to-ME collaboration, value co-creation, and win-win situations. An EMC is committed to breaking silos between Micro-enterprises in ways that are more granular than what an Industry Platform would do. EMCs create ME ecosystems that increase harmonized work between otherwise loosely coupled units by establishing a common goal around specific "user scenarios." They're dynamic contracts led by one ME (or, better, by one employee representing the ME, the EMC owner). EMCs also come in "two flavors": an "Experience EMC," more focused on improving the user experience, and a "Solution EMC" providing enabling services to the Experience EMC. Once an EMC is started, any ME or external company that feels able to add value can 'bid' by developing a proposal that shows in detail how they mean to contribute to the realization of the scenario, lists the resources needed to achieve the goal, and states the share of profits (or other benefits) they would require for participating to the EMC.
How such RenDanHeYi / 3EO artifact translates into SAFe:
Multi-team structures: EMC contracts are not a SAFE framework concept. SAFe does not prescribe any contractual / agreement for collaboration or revenue sharing. Still multiple teams can get aligned and create value together as Agile Release Trains within Solution Trains. Agile Release Trains (ARTs, also see above) are sets of agile teams and supporting roles & services that form a "team of teams." Ideally, ARTs have all the skills and services required to deliver end-to-end value independently. The size of an ART is limited to 125 members, taking Dunbar´s number as a threshold. Multiple ARTs collaborate together to build and deliver value through Solution Trains (also see above). They are essentially a "team of ARTs" with a common focus and all the ARTs, roles, and services required to deliver end-to-end value on it. It may include both customer-focused and internally-focused ARTs. 
Additional notes regarding the translation:
The emergent, self-management, many-to-many relationships orchestrated by EMCs remain quite hard to handle even through a SAFe's Solution Train. The contractual nature of EMC contracts is very effective at stipulating the precise commitment in terms of services, quality, and value sharing that multiple internal and/or external actors (teams) will put into a customer-driven scenario. All these aspects would be hard to formalize in SAFe. Participatory budgeting at the value stream level is an attempt at distributing and homogenizing investments across value streams. Budget allocation to EMCs is somewhat similar, but it happens from the bottom up, from the EMC to the company (Industry Platform), and it is mediated by an EMC leader.
3) Core RenDanHeYi / 3EO Artifact: Strategy, Investments, and Industry Platforms (IPs).
Strategy, Investments, and Industry Platforms (IPs). The key mission of Industry Platforms is to ensure the strategic and harmonized alignment of MEs providing similar products and services. Platform owners coordinate Industry Platforms and normally have very small teams. They should be considered more as "coordination" than "production" entities. Industry Platforms support their internal clients with services that range from strategy to investments for the creation of new MEs on the basis of a Valuation Adjustment Mechanism (VAM) aimed at creating above-industry-average commissions and profits. In the  RenDanHeYi / 3EO, Strategy is a hybrid, top-down, and bottom-up process in which Industry Platforms set broad, high-priority directions while MEs and EMCs have the freedom to innovate and deliver value in the scope of those directions. It is Industry Platforms that autonomously (within their area of activity) manage the portfolio, allocate budgets, evaluate progress, and apply the necessary amendments by investing in MEs and EMCs, in accordance with pre-negotiated agreements (VAMs and EMC contracts).
How such RenDanHeYi / 3EO artifact translates into SAFe:
Strategy, Investments, and Industry Platforms (IPs). In SAFe, a central group of executives, business owners, and architects manages strategy, budgets, and portfolios as part of the Lean Portfolio Management work. Industry Platforms-like structures are not formally part of SAFe. One approach to reproduce them would be to form "Solution Trains" based on their focus/topic of interest (e.g., a "Smart Home" platform solution train or an "Internet of Food" one). Such a platform solution would contain all the ARTs & Agile Teams (then EMCs and MEs) required to deliver solutions in that space (e.g., Internet of Food). However, in SAFe, Solution Trains are formally codified organizational units. ARTs and Agile Teams would be embedded into them. A second option would be leveraging the CoP (Community or practice) model. In SAFe, these can run from purely opt-in temporary communities to more formalized domain/topic area groups. As such, an industry platform could be formed as a cross-team/ART "community" – e.g., a "Smart Home community." 
Additional notes regarding the translation:
Neither COPs nor Solution Trains would get responsibility for strategy, budgeting, or portfolio management responsibilities. A transition from having a Project Management Office to a Value Management Office could help to distribute accountability for Portfolio Management while maintaining common patterns, measures, and reporting across the portfolio. SAFe also takes advantage of Participatory Budgeting (see also above), a specific event through which stakeholders from multiple streams decide how to assign the available budget across solutions.
4) Core  RenDanHeYi / 3EO Artifact: Investments and VAMs
Investments and VAMs (Valuation Adjustment Mechanisms). The VAM-contract-mechanism is an investment agreement that normally defines (1) the ME's objectives in terms of direct market performance (company value – the value accrued inside the entity), (2) the ME's objectives in terms of addressed ecosystem value and performance (network value – the value enabled for the ecosystem), (3) how the ME will receive support for the basic living expenses in the constitution phase, (4) the mechanisms to let employees access an option pool to incentivize more "skin in the game," (5) the mechanism for exit or dissolution.
How such RenDanHeYi / 3EO artifact translates into SAFe:
Not Present
Additional notes regarding the translation:
While VAMs or VAM-like concepts are absent in SAFe, Participatory Budgeting can be leveraged to distribute funds among multiple value streams. Still, the VAM isn't created as a collective process but through an agreement between a single node (such as the ME) and the company (The Industry Platform). It also includes precise stipulations such as inflection points, targets (also in financial terms), and conditions that can unlock value sharing to employees (such as profit sharing, or access to equity) that are missing from Participatory Budgeting.
5) Core RenDanHeYi / 3EO Artifact: Shared Service Platforms (SSPs)
Shared Service Platforms (SSPs). Shared Services Platforms are often former functional departments (e.g., HR, IT, Legal, Finance, etc.) transformed into a common platform that provides services to user MEs and node MEs. Shared Services Platforms are also made up of MEs. Their function has changed from management to the provision of services to other parties, and their structure has gone from silos to enabling platforms. MEs composing the SSP are normally divided according to functional expertise or geography (for example, an HR SSP may have a Digital HR Micro Enterprise inside it, or a Sales SSP may include a Sales ME specific for a certain region).
How such  RenDanHeYi / 3EO artifact translates into SAFe:
Shared Service Platforms. SAFe also has an element called "shared services." This is, however, typically more focused on shared technical services (application management, IT service deployment, and test platform maintenance) and not in the RDHY sense. Examples are seen where functions such as HR, IT, Legal, Finance, etc. have been embedded into an ART as "agile teams" that provide services, or in a Solution Train construct in the form of a service ART. While not a specific construct of SAFe, such approaches are possible.
Additional notes regarding the translation:
In addition to infusing significant autonomy in support functions, SSPs have the merit to make value exchange for internal enabling services visible, measurable, and trackable. Thanks to them, organizational bureaucracy becomes visible and gets fragmented through market and customer-driven logic. In other words, SSPs expose the entire organization, not only business or IT teams, to entrepreneurial forces, skin in the game, and productization, thus incredibly augmenting the impact of the transformation.
6) Core RenDanHeYi / 3EO Artifact: Order/Bidding
Order/Bidding. In the  RenDanHeYi / 3EO, Resource allocation always happens with one node (for example, an ME) creating an order and other nodes bidding to provide services to satisfy such request. Conditions (SLAs, costs, and value-sharing expectations) are part of the bid. The ordering node then decides the best candidate and enters into an agreement with it.
How such RenDanHeYi / 3EO artifact translates into SAFe:
Order/Bidding for service delivery isn't currently part of SAFe practices. In SAFe, effective contracting practices (such as fixed terms agreements, time & materials, etc., and purchase of delivery capacity) are followed for acquiring external services more than to formalize relationships among employees within the same organization.
Additional notes regarding the translation:
People and resource allocation in SAFe are often associated with senior management, program & product management, and senior stakeholders, while in the  RenDanHeYi / 3EO Micro-Enterprises and EMCs take over the full responsibility to attract, leverage, and repay both the human and financial factors required to achieve their success. In SAFe, an initial process of value stream identification aims to determine the operational and development value streams that collaborate to deliver end-to-end value. As part of this process, the technologies, products, and systems, plus the people and partners in charge of them are selected before formalizing dedicated Agile Release Trains or Solution Trains. The formation process can range from prescriptive to more participative. While the formation of SAFe ARTs does not dictate an order/bidding process, it does not disclude that as a possible approach to creating an ART.
7) Core RenDanHeYi / 3EO Artifact: Value-added sharing
Value-added sharing. Ecosystemic means nodes will collaborate (in EMCs) to generate value they cannot produce in isolation. Part of that value will be shared back to participating actors, according to an agreement (EMC contract)
How such  RenDanHeYi / 3EO artifact translates into SAFe:
Value-added sharing. No such mechanism is defined in SAFe.
8) Core RenDanHeYi / 3EO Artifact: Talent Pool.
Talent Pool. Employees receive a universal basic income and, when not assigned to a node, sit into a talent pool. It is their responsibility to find or create new opportunities (MEs to join).
How such RenDanHeYi / 3EO artifact translates into SAFe:
Talent Pool. SAFe makes no prescription of how talent is managed or allocated. The assumption is that people are assigned to teams, ARTs / Solutions, and are (in most cases) fully allocated to a single entity. Good practices for talent management are possible but external from the framework. There is no stipulation regarding payment, value-based rewarding, or basic salaries.
9) Core RenDanHeYi / 3EO Artifact: Stage-gated and outcome-driven incorporation
Stage-gated incorporation. MEs go through a validation process according to a VAM contract. One of the outcomes, after having demonstrated their market fit in terms of revenues and clients, could be the incorporation of the unit into a separate legal entity, co-owned by the parent organization and former employees that can receive or acquire its shares at convenient conditions.
How such RenDanHeYi / 3EO artifact translates into SAFe:
Stage-gated incorporation. No such mechanism is defined in SAFe: A VAM does not exist in SAFe. The firm itself will fund a Portfolio, Value Streams, Solution Trains, and ARTs based on its strategic goals and priorities.
10) Core RenDanHeYi / 3EO Artifact: Tracking value exchange
Tracking value exchange. Every unit exposes a set of services (a sort of APIs) to be consumed by other actors according to agreements (EMC contracts). The value exchange is made visible and tracked both to measure the P&L of the unit and see how it performed in relationship with its commitment (VAM).
How such RenDanHeYi / 3EO artifact translates into SAFe:
Tracking value exchange. No such mechanism is defined in SAFe. ARTs and Agile Teams receive a budget as part of a value stream. Progress but not financial value tracking is prescribed. In a SAFe ART, a business value is assigned by business owners to the main objectives the ART wishes to deliver within a planning cycle. This business value is a relative assessment (0-10) of the value being created. Results are then assessed at the end of a planning cycle (PI – Planning Iteration) to provide transparency on performance. Business value, however, do not directly reflect revenues or budgets.
11) Core RenDanHeYi / 3EO Artifact: Operational reputation
Operational reputation. Each node accumulates an operational reputation given by the evaluation assigned to it by other nodes during joint activities (i.e., execution of contracts). In the future, this reputation will influence the probability for the node to be chosen in future order/bidding processes.
How such RenDanHeYi / 3EO artifact translates into SAFe:
Operational reputation. No such mechanism is defined in SAFe.
Access the comparison with a handy table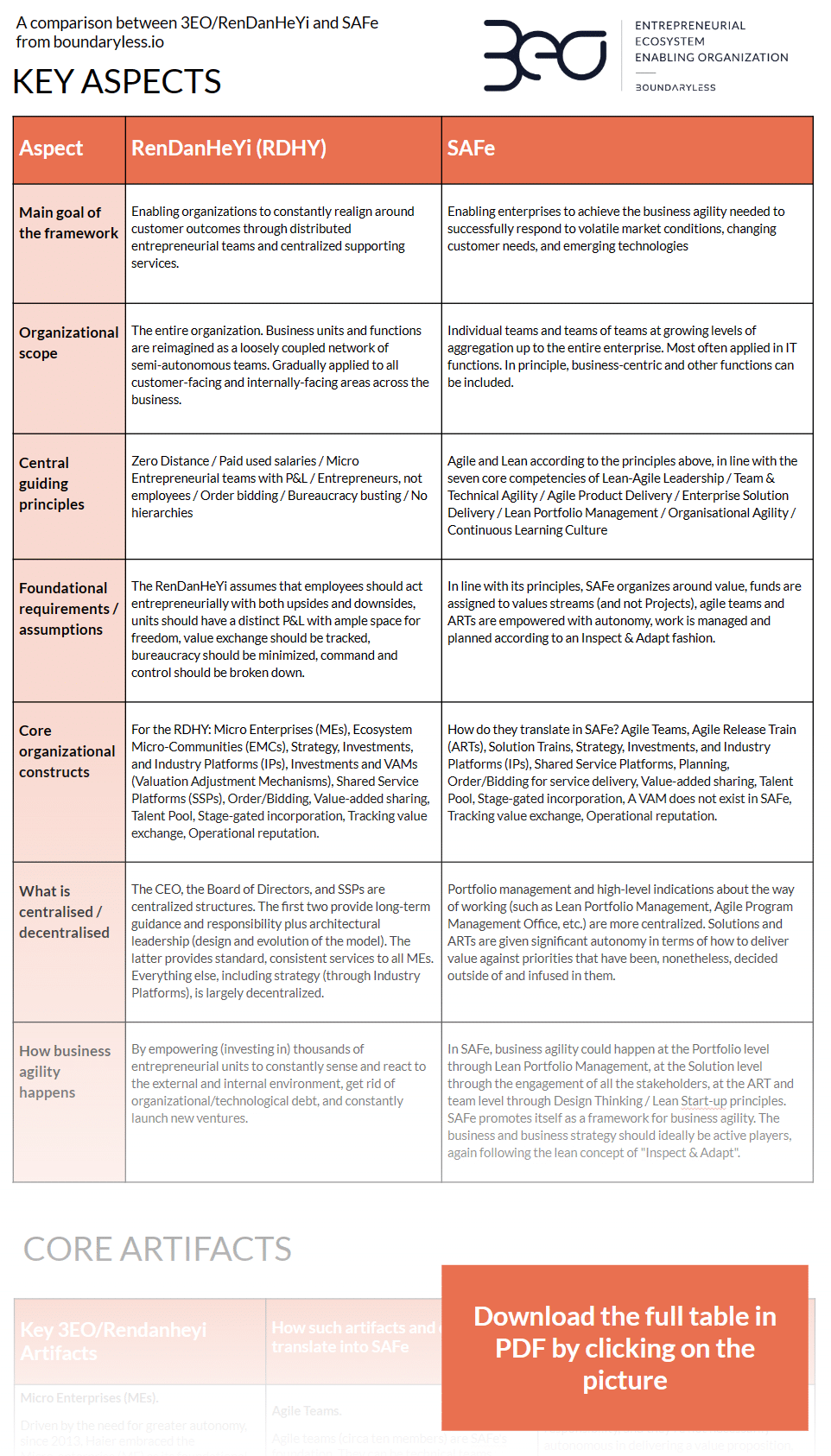 Conclusions and next research steps
What can then be learned in terms of the areas and practices that SAFe and the RenDanHeYi / 3EO, respectively bring to the table? How to best leverage them in an environment where an organization wants to achieve a high level of coherence and – at the same time – avoid sacrificing too much autonomy? (see our recent piece on the Trilemma of Organizational Unbundling)
Based on our current experience and understanding. SAFe excels at least at three distinct levels:
At the agile team level

, by guaranteeing ample freedom regarding how to best create and deliver value. Rituals, events, roles, patterns, and practices all facilitate teams in taking responsibility for their work but still within a well-structured and orchestrated system of other value streams, teams, and organizational artifacts.

At the cross-team level

, ARTs and Solution Trains bundle multiple agile teams to transform them into a cohesive, self-sufficient, and autonomous nucleus. The decision of which teams to select and how to aggregate them is taken outside of the teams themselves.

At the overall organizational level,

by reassuring senior stakeholders and representatives of the various value streams on one side about the possibility of aligning, synchronizing, and orchestrating an often complex (and then interdependent) set of development and maintenance initiatives and, on the other, about maintaining significant levels of control and coherence about priorities, budgets, reporting and the application of consistent best practices across the portfolio.
It would be even too easy to emphasize how appealing such a double configuration of autonomy at the team level with increasing external, centralized supervision and approval beyond the individual team could be for managers and other senior decision-makers in a traditional, hierarchical, command and control organization. In a sense, SAFe positions itself in the middle of an imaginary continuum between full centralization and full decentralization, with ample freedom on value delivery and ample control regarding higher-order responsibilities.
Haier's  RenDanHeYi / 3EO is, of course, positioned on the same but at a very different point in the continuum:
At the Micro-Enterprise level,

teams have quite an unlimited space for action by controlling their P&L, strategy, people, rewards, and overall execution. Even salaries are substantially paid by customers, not by the company.

At the cross-Enterprise level,

EMCs are arbitrarily decided by MEs without any external or higher-level decision or supervision. It's a peer-to-peer agreement connected to customer outcomes.

At the overall organizational level,

Industry Platforms and Shared Service Platforms offer a minimal set of consistency and direction regarding strategy, budget allocation, progress evaluation, and stream orchestration. Still, the amount of freedom, even redundancy and distributed accountability left to each system node is massive. No neat portfolio management process is guaranteed or even desired. Still, Haier's organizational model caters to the economies of scale (tens of thousands of people in different countries) large firms are desperately looking for and, surprisingly, with none to minimum bureaucracy.
Going even beyond the unique organizational artifacts the RenDanHeYi / 3EO brings (e.g., order/bidding, industry platforms, VAMs, EMCs, etc), the most relevant difference between the two frameworks is not so much in terms of practices but of overarching goal and philosophy:
The  RenDanHeYi / 3EO oscillates towards minimal levels of control and maximum space for the entrepreneurial initiative since it is meant to enable a massive distributed but still scalable ecosystem of innovation. Its attempt at optimizing each node in the system is minimal. On the contrary, its focus on fostering the creation, validation, and often demise of new ventures is extreme. The basic amount of control and orchestration of the RenDanHeYi / 3EO features is the one making its huge scalability possible without reintroducing bureaucracy.

SAFe simply has a different objective: allowing freedom for teams but protecting the visibility and actionability of the bigger picture constituted by the overall portfolio. No redundancy, misalignment, or lack of awareness about pieces of the portfolio is welcomed. Investments are carefully decided and allocated, even if in an iterative and agile way.
We believe that mixing these two practices – one rather prescriptive, such as SAFe, and one that instead is rather first-principle based, such as the 3EO/RenDanHeYi – can bear interesting results. If we look at the trilemma we introduced earlier in an article, we can certainly say that the two approaches produce a different tradeoff.
SAFe pushes for coherence and tries to maintain a high level of team autonomy – sacrificing the organization's adaptability to a changing environment. Whilst teams, ARTs, and Solution Trains can reform around new strategic goals, they tend to be relatively static. A shorter-term change in strategic direction is typically reflected in a redefinition and prioritization of the work for existing SAFe organizational constructs. On the other hand, the 3EO/RenDanHeYi thoroughly promotes autonomy and adaptability by creating massive optionality for an organization, pushing it to become extremely product-centric (every unit needs a value proposition, produces product equity and revenues).
Our experience with customers has demonstrated how a SAFe implementation can be complemented with some of the principles spurring from 3EO/Rendanheyi in two main ways. Participatory budgeting can be mixed and cross-fertilized with the practice of defining Micro-Enterprises and introducing at least VAMs and clear contracting. The capability to negotiate investments and retain skin in the game should be entrusted to product teams. The difficulty here will be that in the SAFe artifacts, it may be hard to identify where the "border" of a product team stands: where do you put P&L in SAFe? The core idea in SAFe – which is to fund "value streams" and not "projects" leaves a question open with regards to how to foster productization in an age where "product centricity" is seemingly becoming essential (see our article on product-centric organizing). Once a SAFe implementation has introduced key productization concepts such as ME, EMC contracts can also be used to favor silos-breaking and cross-team collaboration and foster emergent innovations, especially when it comes to finding new go-to-market initiatives or the creation of new customer scenarios from rebounding capabilities in an innovative way. This activity is normally left out of the teams in SAFe as a result of the separation of duties that tends to constrain development teams to product development and separate them from business and go-to-market issues.
On the other hand, an implementation of 3EO/Rendanheyi that only focuses on the organizational structure and enablers would radically promote adaptability and autonomy at the expense of coherence: coordination in a 3EO/Rendanheyi organization comes through complex point-to-point mechanisms, and strategic direction is mainly achieved through investments allocation. 
In our practice, though, there may be significant benefits in complementing and completing the 3EO/Rendanheyi organizational structure setup with additional transformative elements such as a portfolio management practice. Such practice needs to look at the whole system and:
intentionally fund strategic integrations between product MEs

develop lacking pieces of the portfolio

favor the emergence of taxonomies that can help achieve coherence both in the eyes of a customer that needs to consume bundles of products and services and in the eyes of teams that need to understand how the piece that they're building fits into the big picture. 
It's therefore technically possible – we believe – to prototype a chimera between the two approaches that brings home the adaptability advantages of 3EO/Rendanheyi and – at the same time – aims at achieving increased coherence at the portfolio level but does so with a preference for "enabling constraints" (such as product taxonomies, collaboration fostering contracts, shared playbooks and information…) rather than with a top-down separation between business priorities and development capabilities.

Stay tuned on this channel as we explore more of the integrations between different flowers of scaled agile practices, product-centric organizational models, and 3EO/Rendanheyi, and don't forget to reach out if you want to make your SAFe implementation more adaptable, product-centric, and entrepreneurial.
To catch up with our latest developments on the role of Portfolios and Taxonomies, please check out the following articles:
---
Are you into future-proof organization design concepts, techniques, and tools?
Join us at the upcoming 3EO / RenDanHeYi Live Masterclass in December: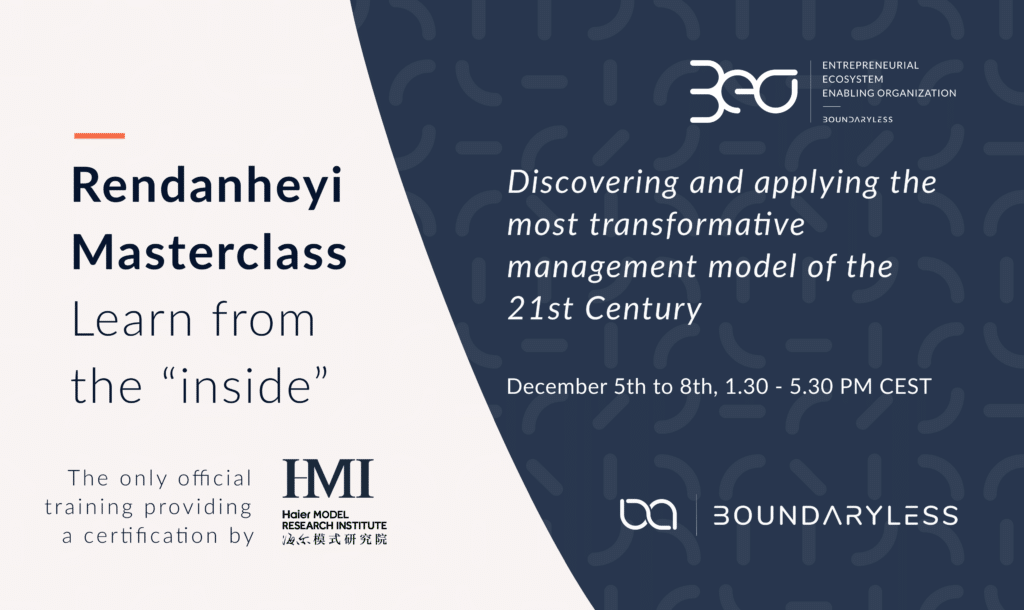 ---
Before You Go!
As you may know, everything we do is released in Creative Commons for you to use. If you're getting value out of these reads and tools, we encourage you to share with your friends as this will help us get more exposure and, hopefully, work more on developing these tools.
If you liked this post, please consider following us also on Twitter.
Thanks for your support!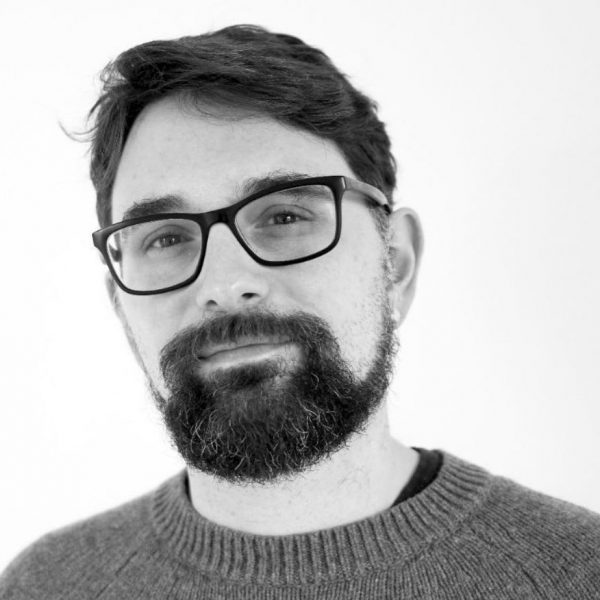 Get help in exploring and designing entrepreneurial and ecosystemic organizations