Shifting to an Organizational Unbundling Model: When and Why
Explore the advantages and scenarios of Organizational Unbundling as an innovative approach for fostering business agility, driving innovation, and increasing operational efficiency in today's dynamic markets.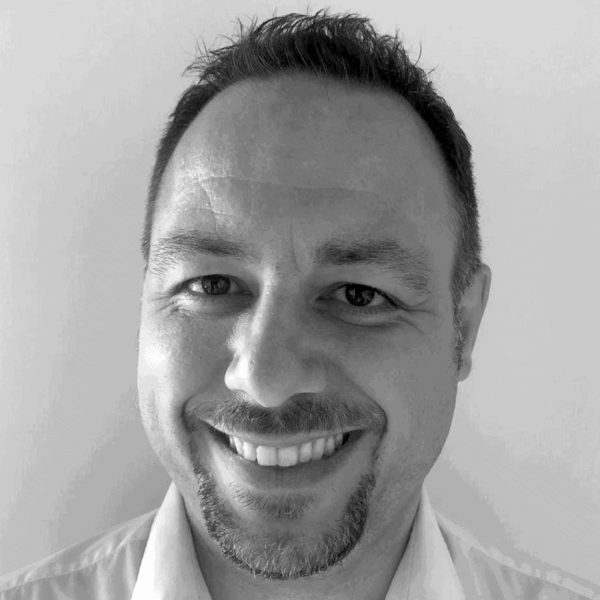 Introduction
It's been a few months since we introduced an essential concept – that of Organizational Unbundling – in our writings, and more generally, in our work
With organizational unbundling, we mean a transformative approach that aims at reframing an organization – rather than as a set of functional siloes – as a swarm of semi-autonomous nodes that are independent in setting their direction and managing their financials but stay interconnected through shared services and a coherent strategy. This approach is mirrored in Boundaryless' 3EO Framework and our product portfolio management practices.
Unbundling helps organizations look at their capabilities as nodes that can be framed as micro-enterprises focused on producing a peculiar product or service and promoting that service to the market, being it internal or, better, external.
Such productive units are often supported by shared platforms of services that provide all units with common enabling services, such as finance, IT, HR, and more…depending on the context and by investment capabilities set to seed new units continuously.
Subscribe to our newsletter if you don't want to miss a thing!!
Why unbundling is key today
Organizational unbundling plays an increasingly crucial role in today's dynamic markets, primarily due to the reduction in transaction costs that make modular value propositions more appealing because it's ultimately easier to combine them – think about APIs, plug-ins, open standards, and extensions.
These trends ultimately allow smaller teams to run competitive services with potentially fewer people and more entrepreneurial dynamics.
Trends illustrating this shift have started surfacing even within the Venture Capital ecosystem. There are emerging signs of startups stopping at earlier stages of the deal flow, demanding less capital. This paradigm demonstrates keenness toward profitability from the initial operational phase and emphasizes attention toward smaller target markets.
"…seed investors of the future aren't going to be in the game of packing things for series A, and they will be investing in novel important crazy ideas where they – along with the founders – are going to be very happy to own for a very very long time. " Sam Lessin – Turpentine VC podcast
In this context, organizational unbundling – especially if seen from the perspective of a large organization – can be an important strategy for handling specific situations and addressing emerging problems in the current business environment.
We've already introduced the key benefits of organizational unbundling in a previous article but we'll recap them here for the reader's convenience:
Reducing or Preventing Organizational Debt

by making everyone responsible for their own value creation;

Reducing Organizational Brittleness

, for example by reducing reliance in single, critical units;

Catalyzing Future Business-Oriented Innovation

by pushing for customer connection;

Enhancing Upselling and Offering Coherence

by making it crucial for units to combine their services in a customer scenario-driven way;

Leveraging Economies of Scale

by creating Shared Services Platforms that can at the same time enable other units and entrepreneurial by providing scalable, high-quality services, even on the external market;

Reducing Time to Market and Distance to the Customer

by pushing units to be in touch with their own customers and by stressing the need to proactive bundle services to reach new customers;

Create employee engagement

, attraction & retention by giving employees the right space to express their entrepreneurial skills and have autonomy and skin in the game in what they do.
These benefits relate to common foundational design challenges that manifest across multiple organizational contexts. Let's see their relevance in more detail in a moment, starting from a recap table (click on the image for a hi-def PDF version):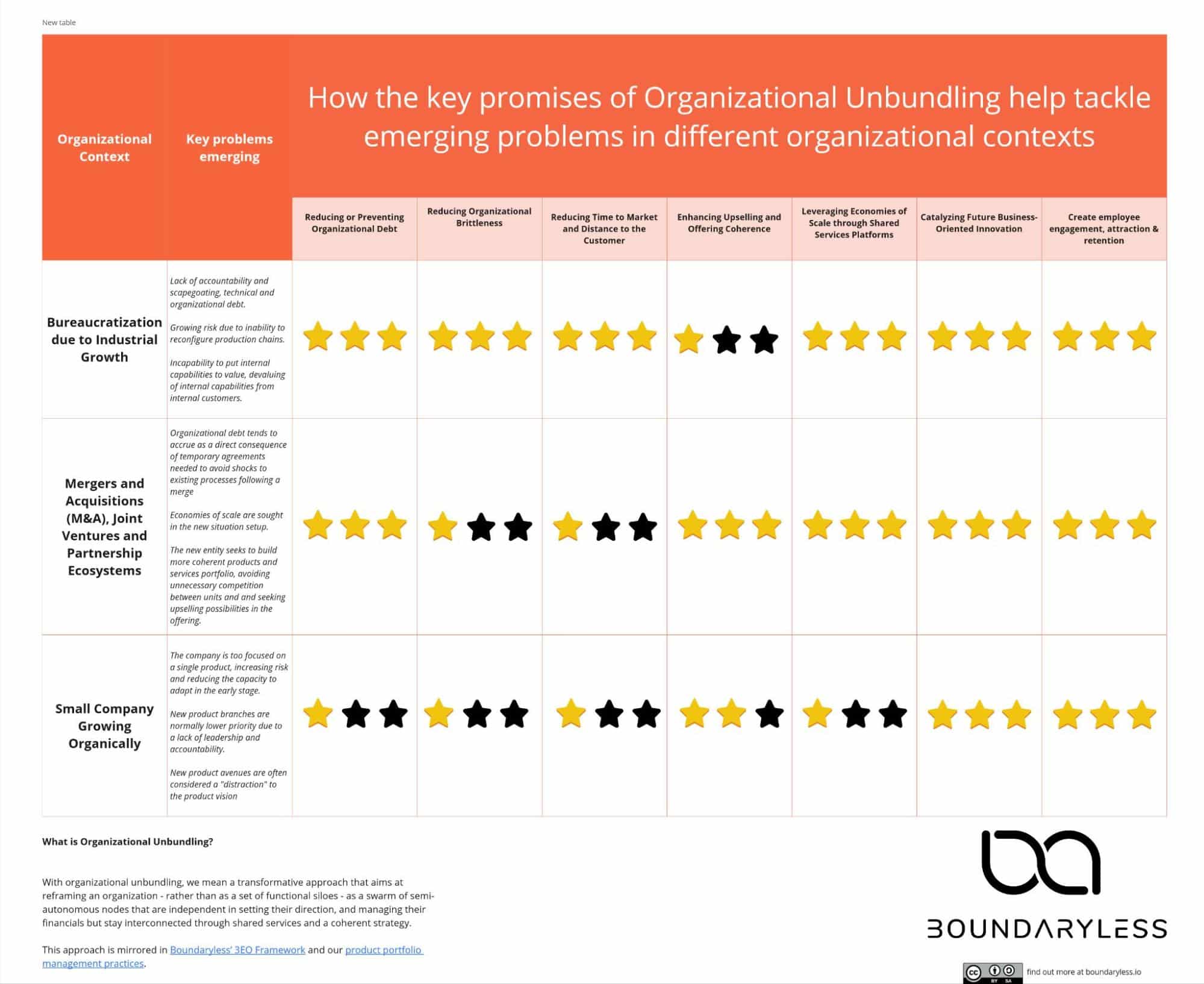 Key Situations for Organizational Unbundling
There are at least three major macro contexts where the application of organizational unbundling can provide a good way to address key problems:
1. Bureaucratization – due to Industrial Growth
2. Mergers and Acquisitions (M&A), Joint Ventures and Partnership Ecosystems
3. Small Company aiming at Growing Organically
Bureaucratization due to Industrial Growth
The context of incumbent organizations growing huge and bureaucratic with time is a well-known, book example of all the bad things that can happen in firms as growth takes place, and dependency chains become longer.
A typical issue in this situation is a growing lack of accountability, the accumulation of organizational and technical debt, and the sclerotization of the company value proposition, with a substantial impossibility for the company of being "ambidextrous" i.e. paying attention not only to value propositions that the company can easily exploit due to mature market demand but also to new and ancillary value propositions. These side value propositions are normally niche in nature (they appeal often to a "subset" of the customers), or they can be situated at a different "layer" of the value chain: think about how Amazon spun out AWS, formerly an internal provider of IT services to the market.
In this context, risk and brittleness tend to accumulate, the company has a hard time responding to radical changes (due to massive inertia), and even clear signs that the business is receding rarely trigger a readaptation due to a long set of internal dependencies making nobody really accountable and independent.
The unbundling approach offers a unique opportunity to combat these inefficiencies. By segmenting units into semi-autonomous entities or micro-enterprises, an organization allows its individual branches, formerly locked in a fixed hierarchy, to operate more independently, fostering innovation and a spirit of entrepreneurship. This not only reduces internal dependencies – enhancing adaptability and resilience – but also introduces possibilities for novel idea generation from teams better versed in their specialized domains and more directly connected to the market.
Indeed, organizational unbundling makes each entity responsible for its customers, generating a deeper understanding of customer needs and market trends. In turn, this boosts the chances for successful innovative strategies to emerge at the edge of the organization.
Unbundling will indeed impede the formation of organizational debt, making everyone generally more accountable and autonomous in deciding what to do. Furthermore, by increasing the number of interfaces to the market and by removing the obligation to source from captive environments, unbundling will definitely decrease the length of production chains thus favoring optionality and encouraging company nodes to look for alternative ways to source providers' services or sell their own. 
Unbundled organizations nurture customer-driven innovations (teams are nearer to the customer) and tend to be less attached to brittle business models: the several units involved in producing a complex value proposition will be able to venture out to find new and different (often adjacent) go to market options as soon as they see dwindling market performance. 
Scapegoating or waiting for someone else to act on bad performances will be more difficult in an unbundled organization as the limits imposed on the units in terms of sourcing and go-to-market are normally much less constraining thus making the single node more responsible for its promises to the market or to the rest of the organization
Overall, unbundling and re-bundling through market-driven / productization-oriented forces is a solid and credible way that a large incumbent organization with a singular business model can follow to solve most of its bureaucracy and debt problems and regenerate its vision, product portfolio, and workforce.
It must be said that, in the short term, unbundling may present some drawbacks, especially for organizations that are used to monolithic business models and advanced planning. Such an incumbent  may feel unbundling drives duplication of capabilities by pushing the Micro-Enterprises to develop all-rounding teams that have to replicate the classic engineering, marketing, and other product functions. Transaction costs may be also felt to increase: why should I negotiate contracts and agreements with colleagues after all? 

But it needs to be understood how unbundling and re-bundling are solutions adopted to respond to changing business environments where optionality is becoming key due to continuous disruptions and exponential change, where single products need to leave space to portfolio strategies, and talented employees are harder to retain if no entrepreneurial upside is provided to them. A market where technologies power small teams to achieve much more impressive results with respect to the recent past.

Unbundling (and rebundling) is thus a rather strategic path, not just progressive optimization.
We'll soon release an article with an example of the techniques based on Wardley Mapping, Domain Driven Design, and the 3EO framework that we're using to analyze an existing organization, isolate capabilities that are worthy of being potentially transformed into Micro-Enterprises and those that are instead suitable to be encapsulated in supporting shared platforms. Subscribe to our newsletter to be informed as we release it. If you're interested in working with us to explore possible avenues to unbundling for your organization reach out for help through the form below.
Mergers and Acquisitions (M&A), Joint Ventures and Partnership Ecosystems
Merger & Acquisitions have been on a roll in the last few years due to abundant capital and low-interest rates. Despite seemingly having peaked in 2021, M&A remains a strategic lever for growth and it will be more so as markets evolve in the direction of multiple niches, as anticipated above.
In some relevant cases, M&A also takes a slightly different shape of strong partnership and joint venture agreements: as transaction costs go down, companies can enter more dynamic deals and agreements and seek strategic collaborations even maintaining separate ownerships and equity.
In these multi-org contexts, it's frequent that – for example as a result of an M&A process – the new entity needs to work on three key elements:
eliminate organizational debt that may be a direct consequence of temporary agreements needed to avoid shocks to existing processes following a merge (you can end up with two entities doing the same work, for example);

seek economies of scale that the new situation is supposed to favor and generate;

re-bundling the offering to increase coherence and upselling possibilities.
By adopting organizational unbundling – and most of all successive re-bundling – an M&A player can effectively eliminate debt due to the mechanisms we explained above and in our previous post.
Furthermore unbundling and re-bundling can provide answers to the two remaining bullet points above. First of all, good economies of scale can be sought by grouping support functions into so-called Shared Service Platforms, i.e. microentrepreneurial units that are dedicated to supporting other nodes in the organization with common, enabling services.
Secondly, coherence in offering and upselling possibilities can be achieved if – after unbundling into product units – strong attention is dedicated to building a common portfolio strategy, and a product taxonomy that favors product composability. These two artifacts somewhat create attractors that make it easier for teams to build "modular" products: like Lego's shape conducts to bundling pieces together so a taxonomy will help combine two products to serve a larger section of the customer workflow.
It's rather important to underline though that it's key to arrive at a participatory and distributed way of building and maintaining the product portfolio: if efforts are centralized, much of the value of unbundling is lost.
If a solid portfolio strategy and taxonomy are coupled with ready-made product collaboration contracts – such as Haier's EMC contracts – explained here – organizational units can easily partner to bring new value propositions to the customer. For example, let's say your organization is a result of 5 acquisitions you made in the last couple of years and you provide digital product development services. Let's assume you acquired a design boutique, a marketing agency, and a software development firm: the three units could cooperate to bring to market a – subscription-based / SLA based – digital product prototyping service that can be a promising Horizon 2 (sustaining innovations) option for your portfolio, essentially getting after a new segment (lower spend), with a recombination of capabilities.
We covered the design of product-areas as hubs recently in a conversation with Hubspot Platform-Ecosystem leader Scott Brinker and more widely a potential approach to creating visual portfolios in another article on our blog.
Small Company Growing Organically
Maybe less intuitively, in our experience, unbundling can be a significant strategic choice also for small businesses and startups. Current trends point out a tendency to portfolio building for small businesses due to a burgeoning tech enablement that allows them to create packaged services much more easily.
We're seemingly entering the age of productized agencies, product studios – or as someone calls them – Indie Startups, But what is the idea? Bootstrapped, cash-flow positive, subscription-based, AI-powered, service (or products) easily packaged for consumption, quickly distributed to a content-driven audience (community) producing the cash flow needed for innovation and – most importantly – reinvestments.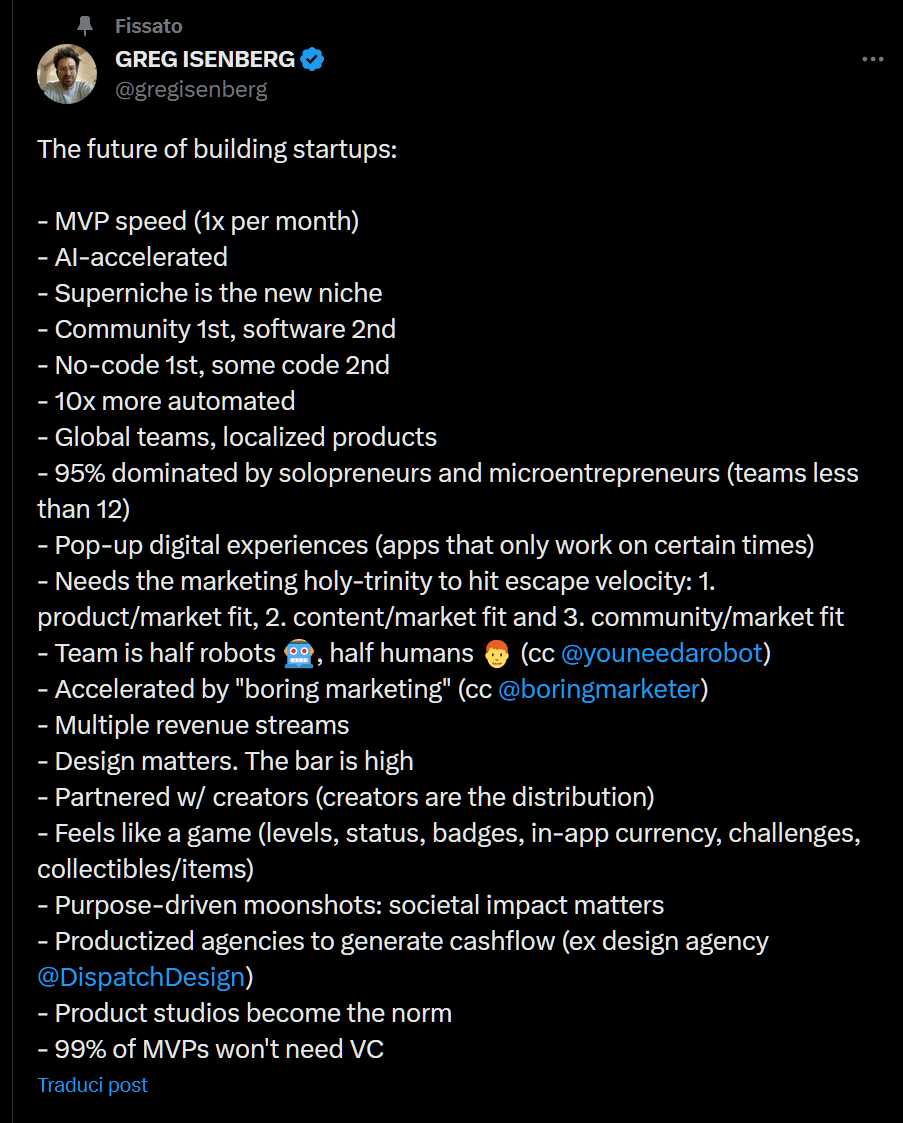 Product startups even seem to have to think in terms of portfolio: Tidemark – a landmark VC fund focusing on Vertical Saas (one of the most bubbling startup categories at the moment due to the wave of digitization that is happening in traditional business-to-business sectors that are changing hands from boomers to millennials.) praises embracing a multi-product mindset for startups from the onset.
As an example, a startup building for a consumer segment could extract one particular technological asset and use it to address a business segment avoiding the corporate customer needs to influence too much the development of the consumer product, at the same time ensuring that the enabling technology (that could be encapsulated in a P&L bearing Micro-enterprise with its own go-to-market capabilities and its own leadership) could be used to cater to another resourceful customer segment.
Organizational unbundling can thus serve to empower leaders in your small organizations to grow their business autonomously and with accountability.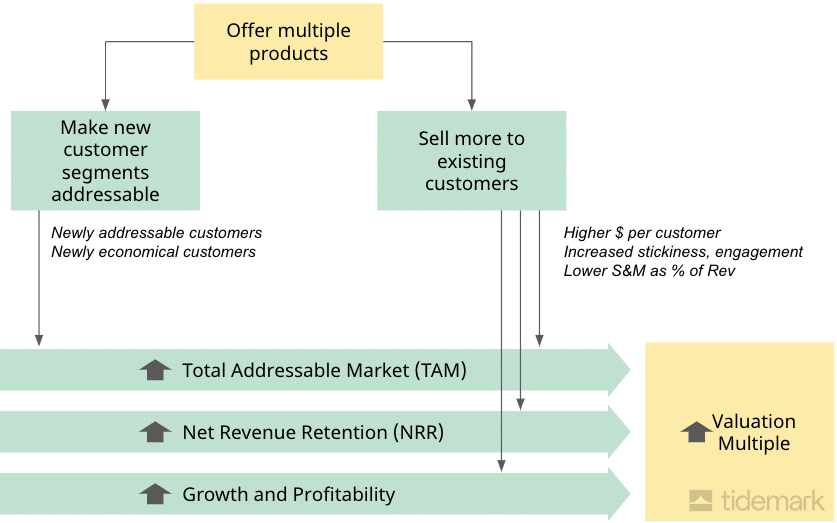 Conclusions
This article has shed light on how Organizational Unbundling can help tackle challenges, providing possible solutions to a set of typical problems that emerge in different organizational contexts.
We discussed it as a unique, transformational approach that envisions an organization as a cluster of autonomous nodes, using the Boundaryless 3EO Framework to illustrate. Each individual node, or micro-enterprise, concentrates on delivering a specific product or service to markets, both internal and external. Complemented by shared service platforms, unbundling proves advantageous in maintaining operational fluidity and spurring ongoing innovation.
In the piece, we inspected several distinct macro contexts; bureaucratization due to Industrial Growth, dealing with the aftermath of Merger and Acquisitions (M&As), building joint venture-based ecosystems, and even small-scale, startup-driven innovation.
Ultimately, in all these contexts we've seen how unbundling provides solutions mainly by inviting all nodes within an entity to be self-reliant. It welcomes responsibility, generates flexibility, and fosters possible situations beneficial not only to distinct individuals but to the whole corporation.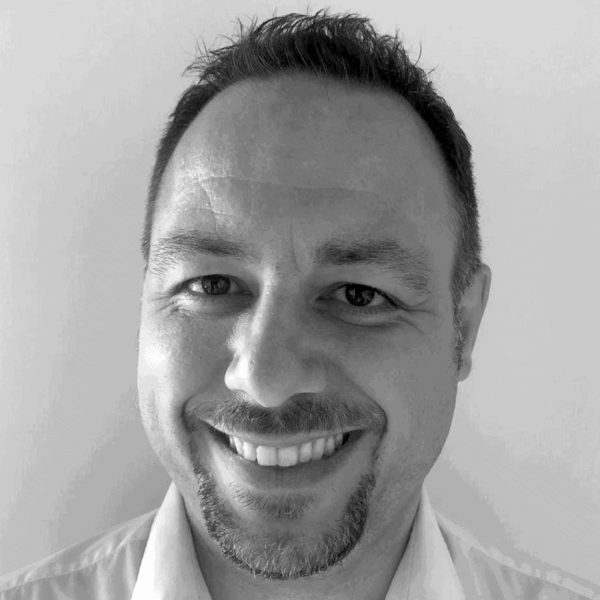 Do you want to explore the advantages in unbundling your organization?